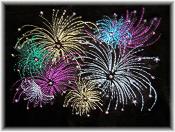 Hi Connie,

Received my jacket Tuesday. Loved it!!!!  Thank you so much.I just had to wear it Tuesday nite in Lawrence,

and then bring it to work to show everyone. You are awesome!!  Can't wait to wear it to Myrtle Beach next week.

Take care, Glenda

My jacket came out perfect, you know me so well that the design shows my love of dance and the colors could not have been a better choice for me.  And your signature "bling bling" is just the cherry on the sundae.  You are the best.  Thanks for being part of my dance life.

Love you, Tina

Connie!!

I was out of town last week and the jacket came during that time.  That was one of the first things I opened.

It is SOOOOOOO beautiful!!!  More than I expected.  I will definitely get one for myself soon. I know that Maria will love the jacket. 

Thanks so very much. Donna Beard

Hi Connie,

I just had to tell you how beautiful my jacket is. You have done an outstanding work of art. The pink and green colors are dazzling. I am on my way to dance class an I can't wait to show it off. Perfect cool night for it! Thanks again for making me so happy.

Linda

Love, love, love my jacket Thank you so much.  Can't wait to wear it.

Sherron Mahs

OH MY GOD, that looks FANTASTIC.....I'm gonna bring Don's tonight. I couldn't wait, I SHOWED HIM and HE LOVED IT toooo!

PS....AWESOME JOB on the sweatshirts.....LOVE IT LOVE IT

Dottie Cansabella

Love 'em, love 'em, love 'em...what more can I say. You are so awesome, we both LOVE our new fleece!

We'll be your best advertisement.  lot's of love,

Paul & David  "the Boyz"

Thank you so much for the beautiful jacket! I Love it. What wonderful detail you put into them. I will model it for you in Boston!!!

Carol Craven

Thank you soooooo much!   The jackets are awesome!  I got them in the mail on  Friday, unpacked them, and wrapped them and already gave them as a gift!  I couldn't wait!!  All 3 people loved them!!  :)  I will be making a decision about the flower ones soon!  I cant wait!  I'll e-mail as soon as I decide.  Thank you again, Merry Christmas and Happy New Year!  I hope your business does great this year!  I know I will be ordering from you again soon!  :)  Bobbie

Hi Connie,

I just wanted to let you know I received my sweatshirt on Monday, It came out beautiful.  I'm very happy with it.

Thanks Again and Happy New Year

Ellen Dailey